| | |
| --- | --- |
| Posted by me on January 11, 2015 at 11:00 AM | |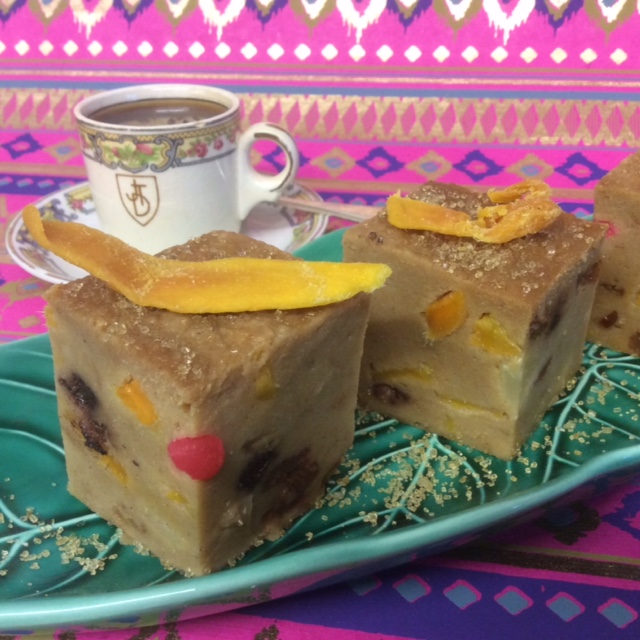 There is a fabulous group on Facebook called 'Tampa native Cuban/Spanish, Italian and Southern recipes'  hosted and written by a group of sassy ladies with some serious Latin spirit. I dribble over there sunshine filled dishes, immerse myself in the imagined scents and flavours of the lemon, garlic and chilli infused sauces and longingly picture  myself in warmer climes, lazing on a golden sandy beach, drinking long rum based cocktails served by a bronzed Adonis.
The only problem with the recipes is the sheer quantity they feed! The recipes never serve half a dozen, more like the whole Sicilian family with 'Nona', Granddad and all the second and third cousins thrown in for good measure and every other day seems to be a feast or saints day ensuring that there is a cornucopia of good eating for every occasion ( except for the feast of the seven fishes, that was full of slimy molluscs...yuck!)
This is my version of a traditional Cuban bread pudding, similar to a traditional English old fashioned bread pudding but with condensed and evaporated milk as well as tinned exotic fruits to give extra flavour and taste. It is best served cold or warm with some dark rum and vanilla infused pouring cream sweetened with a little icing sugar.
This can also be easily adapted to a gluten free recipe by simply exchanging regular white bread for gluten free bread without any loss of flavour or texture 
What you need
800g white bread 4-5 days old, the bread should be stale but not mouldy (exchange regular bread for gluten free bread to make a delicious gluten free version of this recipe)
410g fruit cocktail in juice, drained ( exotic fruit blend is the nicest if you can find it)
410g evaporated milk
397g condensed milk
4 large eggs
1 heaped tablespoon ground cinnamon
1 heaped teaspoon molasses or black treacle
100g dried mango cut into small pieces
150g dried cherry and berry mix (I used wild cherries, golden sultanas, raisins and blueberries)
25g crystallised ginger cut into small pieces
½ level teaspoon salt
What you do
Place the bread ( break into large chunks if uncut) into a large bowl and cover with cold water for 15 minutes then squeeze the excess water out using your hands leaving the bread damp but not dripping.
Add the eggs, condensed milk, evaporated milk, molasses, salt and cinnamon and mix really well to combine then add in the tinned and dried fruit and crystallised  ginger, and stir again to combine.
Tip into a large 3litre ovenproof dish and place into a preheated oven 160c or 140c for a fan assisted oven for approximately 2 hours or until a toothpick comes out cleanly when inserted into the centre. The pudding will have risen slightly and be an even colour on the surface. Serve either warm with some pouring cream mixed with a little spiced or dark rum, some icing sugar to sweeten and a few drops of vanilla essence or cold with a cup of Cuban coffee or a rich, dark espresso.
Categories: Puddings and desserts, Just like Grandma used to make, Free From.....