| | |
| --- | --- |
| Posted by me on February 3, 2015 at 3:10 PM | |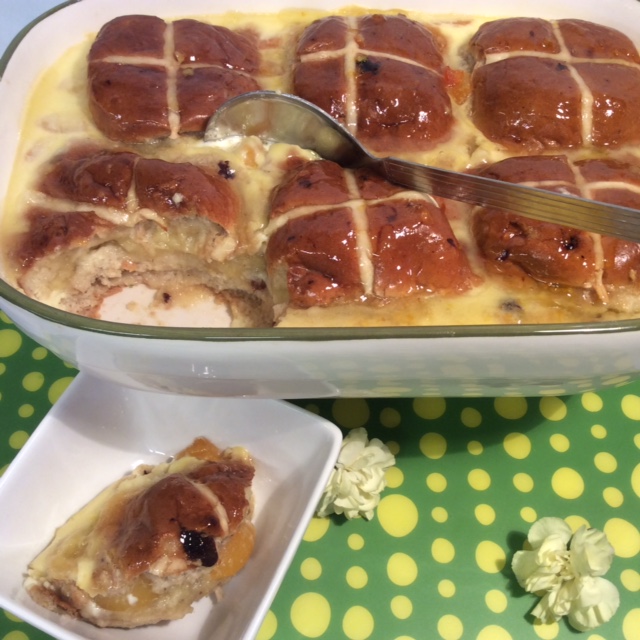 What you need
6-8 hot cross buns or I large brioche loaf
For the Frangipan
75g butter
75g granulated sugar
75g ground almonds
1 level teaspoon almond essence
410g can of apricot halves in natural juice, drained and chopped (reserve the fruit juice to use in the apricot glaze)
2-3 tablespoons of Amaretto or other almond flavoured liquor
For the egg custard
250mls double cream
250mls milk
80g icing sugar
50g good quality lemon curd
5 eggs
2-3 tablespoons apricot jam, boiled with 1 tablespoon of the reserved fruit juice and sieved
What you do
Beat the butter and granulated sugar together until light and fluffy, then beat in the almond essence and ground almonds.
Split the hot cross buns in half and spread the bottom halves liberally with the almond Frangipan filling and place into a 30cm x 20cm x 8cm oven proof dish, sprinkle with ¾'s of the chopped apricots then place the top halves of the buns on top, scattering the remaining chopped apricots over. Drizzle with the amaretto.
Place the cream, milk, icing sugar, lemon curd and eggs into a jug and whisk to combine then pour the mixture over the prepared buns, leave to soak for 30 minutes before baking in a preheated oven 140c or 120c for a fan assisted oven for approximately 1 ½ hours or until the egg custard is fully cooked when tested with a thin knife, slightly risen and a pale golden brown.
When the bun and butter pudding comes out of the oven brush with the sieved and boiled apricot jam and serve with pouring cream or creamy, hot custard.
Categories: Puddings and desserts, Seasons eatings...., something a little bit special...