| | |
| --- | --- |
| Posted by me on November 5, 2015 at 4:40 AM | |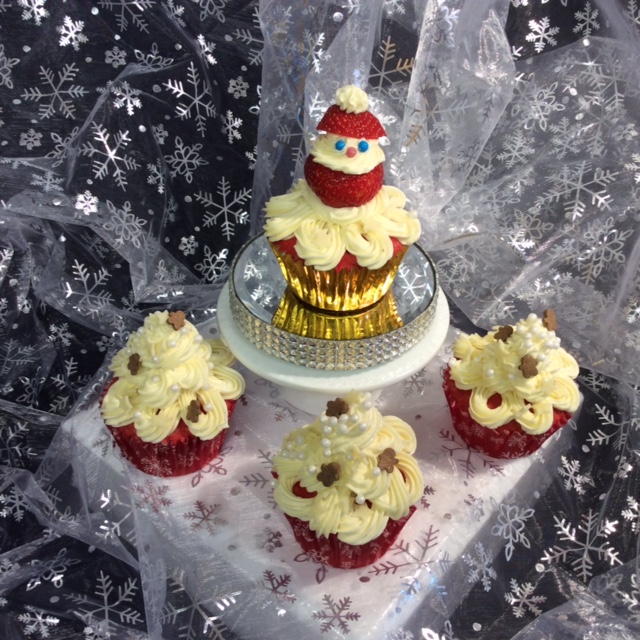 As my favourite time of the year rapidly approaches ( where has this year gone again!!!)  I start to plan and prepare my Christmas feast for family and friends and I  always create a special cake or cookie ready for guests dropping by. This year I decided on a luscious, creamy white chocolate frosting, atop a bright red, clementine infused cake and a zingy fresh strawberry perched jauntily on the top..... Santa Clause has arrived in a very tasty fashion... If you don't like strawberries or if you dont quite have enough ( like i didnt...oops) you can always just pipe frosting on the top to resemble trees and decorate with sugar decorations,I used mini sugar gingerbread and white sugar dragees that I had in the cupboard but you can literally use anything

What you need

200g self raising flour
½ level teaspoon baking powder
200g caster sugar
100g butter
100g baking margarine
Grated zest of 4 Clementines
4 medium eggs, cracked and lightly beaten in a bowl
Few drops of red food colouring
Frosting
250g butter
200g icing sugar
200g white chocolate
16 large ripe strawberries
White chocolate stars, red and blue coloured dragees or mini sugar coated chocolate beans to decorate
What you do
Begin by preheating the oven to 180c or 160c for a fan assisted oven then line 2 x muffin tins with 16 paper muffin cases
Place the butter, margarine, caster sugar and Clementine zest in a bowl and beat until pale and fluffy then gradually beat in the eggs a little at a time , then fold in the flour, baking powder and red food colouring to give a deep red colour.
Divide the cake mixture between the 16 prepared paper cases and bake in the preheated oven for 15-20 minutes or until well risen and firm to the touch when pushed gently with your finger, leave to cool.
Whilst the cakes are cooling prepare the frosting by melting the chocolate in a small bowl over a pan of hot not boiling water or in a microwave (in small bursts). Leave to cool slightly but not set…
Cream the butter and icing sugar in a large bowl until very soft and fluffy then beat in the melted chocolate and continue beating until the mixture is pale and very creamy, place into a piping bag with a star nozzle attached.
Cut the strawberries just above half way up them and pipe a small swirl of frosting in each one, attach the top back on and pipe a small blob on the top for a bobble. Add two blue dragees or mini chocolate beans for eyes and a mouth
Pipe a swirl of frosting on the top of each cupcake and sprinkle with a few white chocolate stars then place a filled strawberry carefully on top.
I didn't have quite enough strawberries for my cakes so I just piped the frosting on the top of some of my cakes to look like trees which looked really cute and were ideal as one member of my family doesn't like strawberries…
Categories: Christmas, Cupcakes, Chocolate... chocolate and more chocolate!