| | |
| --- | --- |
| Posted by me on August 18, 2020 at 11:00 AM | |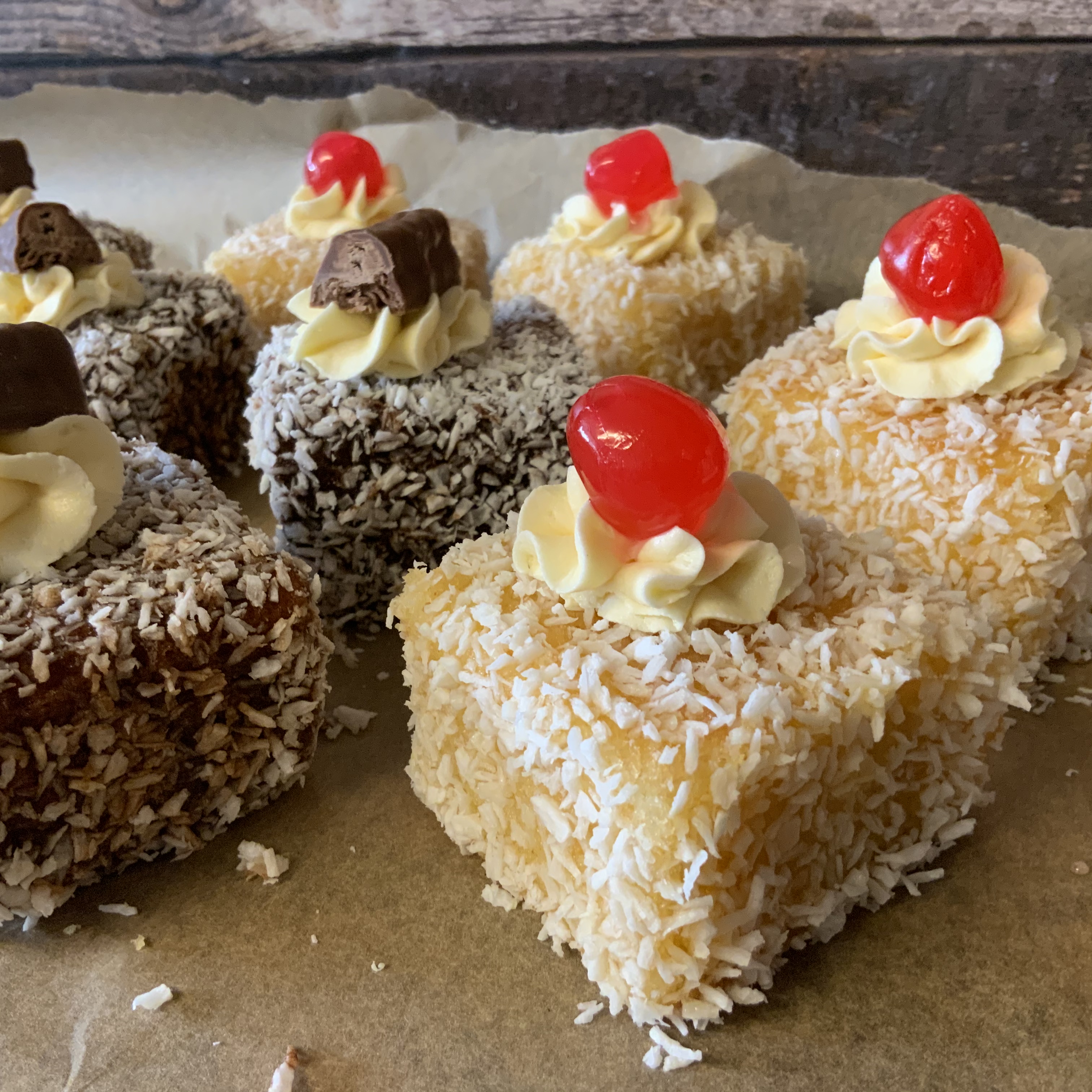 Wham -Bam - Laming-tons are the Ozzie version of a traditional English Madeleine cake, the good thing about them is you don't need any fancy schmancy baking tins, just a square baking tin and so are much easier to make. I love them served for afternoon tea, and sometimes in the summer, I decorate them with fresh edible flowers, violas or even rose petals that have been brushed with a little egg white then dipped in caster sugar and allowed to dry
200g butter or baking margarine
200g caster sugar
200g eggs, weighed in their shells ( approximately 4 medium)
200g self raising flour
1 teaspoon vanilla or almond essence
3 tablespoons milk
Glaze
150g apricot jam
3 tablespoons orange juice or water
100g desiccated coconut
Optional - 1 tablespoon cocoa powder if you want to do chocolate flavoured
Butter icing
50g butter
100g icing sugar
1/2 teaspoon vanilla essence
To decorate
Glacé or maraschino cherries
Chocolate flake or other chocolate, cut into small chunks -optional
Line the bottom of a 9" square baking or brownie pan and preheat the oven to 180c 160c for a fan assisted oven.
Cream the butter or margarine and sugar in a large mixing bowl until very light, soft and fluffy. Break the eggs into a small jug, whisk, then add them to the butter mixture a little at a time, beating well after each addition.
Sieve the flour directly on top of the mixture and stir in gently using a figure of 8 cutting movement. Add the vanilla and milk and gently stir again to combine.
Spoon the mixture into the prepared tin and level the top, bake in the preheated oven for 25-35 minutes or until well risen, golden brown and a skewer comes out cleanly when inserted into the centre of the cake. Leave to cool in the tin for 5 minutes then transfer to a cooling rack to cool completely.
You now need to turn the cooled cake over, so the bottom becomes the top of the cake. Use a large sharp knife to carefully trim the 4 sides, to just expose the white cake and to remove as little of the brown crust as possible.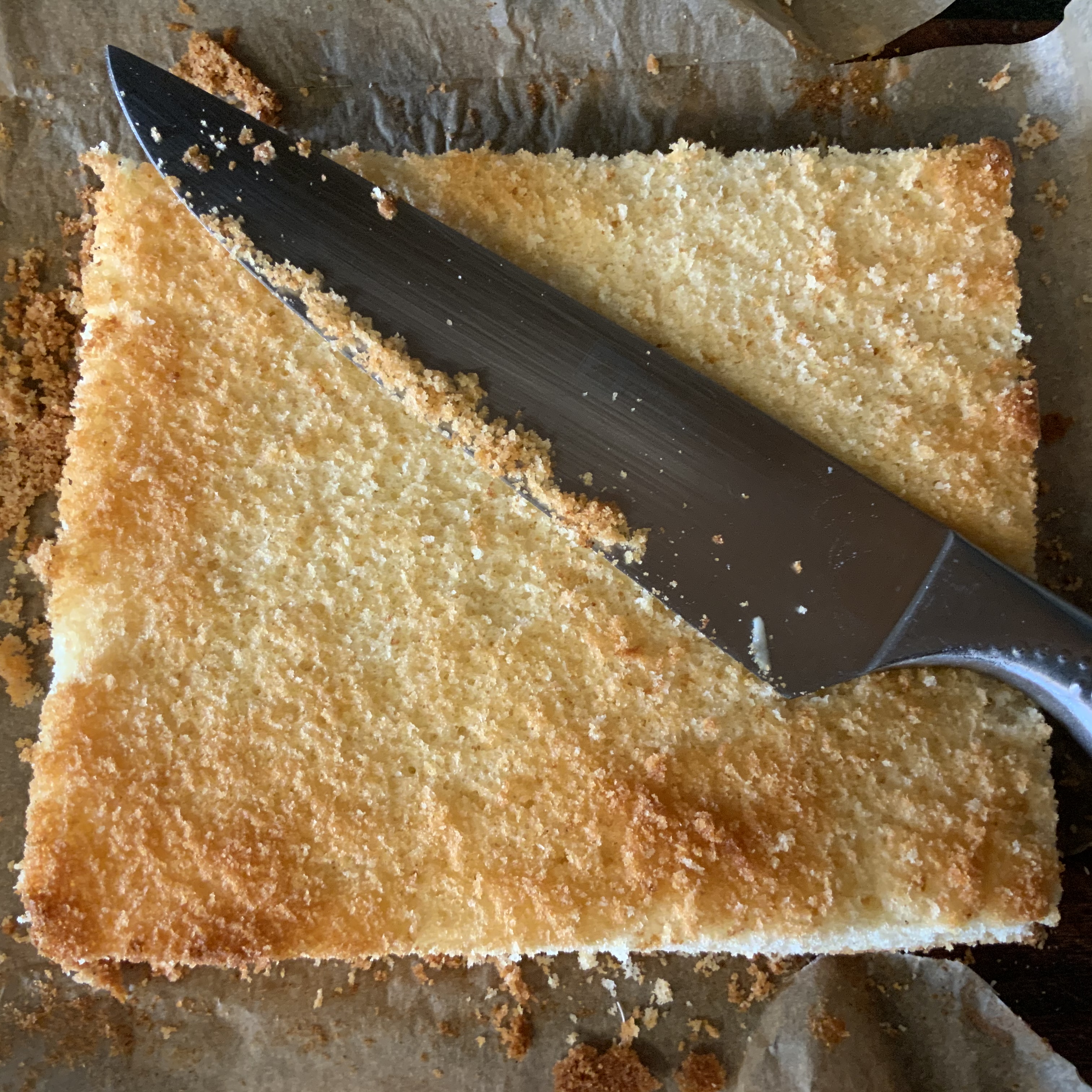 Now do the same for the top of the cake, you only want to remove the brown layer, try not to cut into the white sponge ( try gently scraping the brown crust too, it's sometimes easier to scrape it off rather than cut it off....)
Now cut the cake into 16 equal squares ( 4 one way then 4 the other)
Place the jam and orange juice/water into a small saucepan and melt over a low heat, sieve or remove any fruity lumps so you have a smooth, fairly thin golden glaze ( now is the time to add the cocoa powder if you want chocolate ones or I did half of mine plain then added the cocoa to the remaining jam mixture and made half chocolate ones)
Tip the coconut into a shallow bowl.
Brush the top and sides of each square with the sieved jam then roll in the desiccated coconut.
Cream together the butter, icing sugar and vanilla essence until soft ( you can add a teaspoon or two of boiling water if the buttercream is too thick)
Pipe a small swirl of buttercream on top of each cake and decorate with a cherry or piece of chocolate
Categories: Just like Grandma used to make, Cupcakes, Brownies and bars