| | |
| --- | --- |
| Posted by me on September 25, 2011 at 8:30 AM | |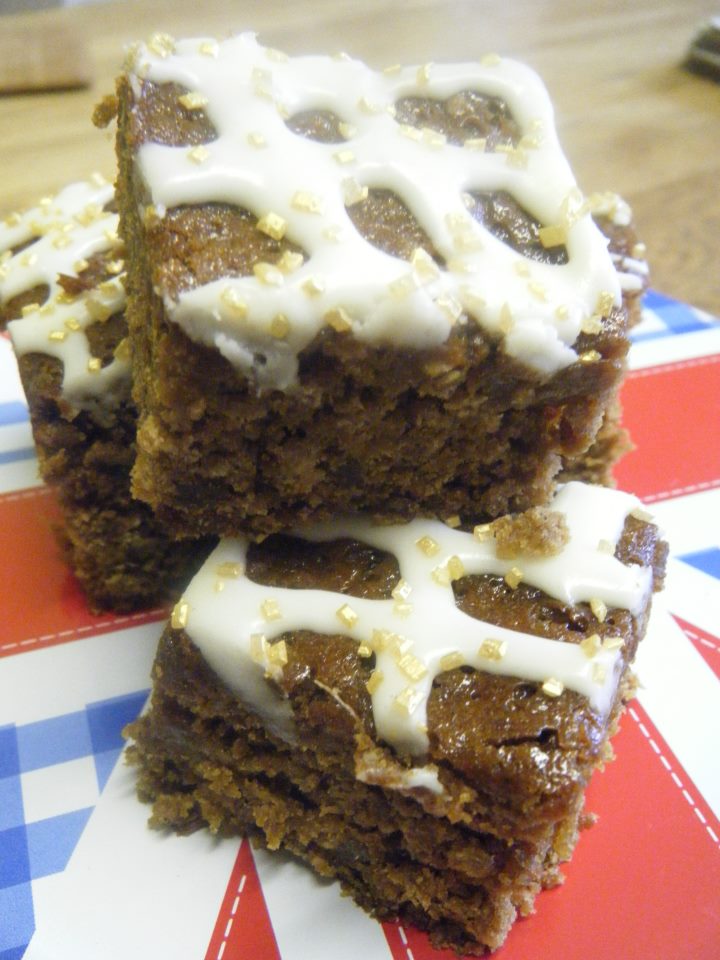 This is one of my all time favourites when the weather gets a little colder and the nights start to draw in, serve this on its own with a mug of hot chocolate (fluffy whipped cream and a sprinkle of ground ginger are extra delicious) or warm as a pudding drizzled with a little hot lemon sauce or a glug of golden syrup and a dollop of thick custard, super scrummy!!!
Even better its extremely quick and easy to make which is imperative when your wrist is encased up to the elbow in plaster
Ingredients
170g self raising flour
3 teaspoons ground ginger
2 teaspoons ground nutmeg
1 teaspoon ground cinnamon
1 teaspoon mixed spice
120g porridge oats
250g golden syrup
75g black treacle
75g butter
75g Trex
150g soft dark brown sugar
2 medium eggs, beaten
25ml milk
2 pieces of ginger in syrup, finely chopped (optional)
Icing
50g icing sugar, sieved
1 tablespoon good quality lemon curd
a little boiling water (about a teaspoon)
What to do....
Preheat the oven to 140c.
Sieve the flour and all the spices into a bowl then add the porridge oats.
Place the butter, Trex, sugar, golden syrup and black treacle into a small saucepan and melt gently until you have a smooth liquid.
Pour into the flour mixture along with the chopped ginger, beaten eggs and milk.
Stir well until you have a smooth batter then pour into a lined 8" (20cm) square tin or a 9" round.
Bake in a preheated oven for 1-1 1/4 hours (a cocktail stick will come out clean). Leave in the tin for 5 minutes then transfer to a wire rack. 
Icing- place the sieved icing sugar and lemon curd into a small bowl and mix well, add a little water a drop at a time to make a thick icing and drizzle over the still warm cake ( I sprinkled my cake with some funky glittery sugar but this is totally optional), leave to cool then cut into 16 squares).
I find this cake even more delicious if you can leave it for 24 hours in an airtight tin, it gets lovely and sticky....
Categories: Just like Grandma used to make, Cutting cakes